20min cooking time .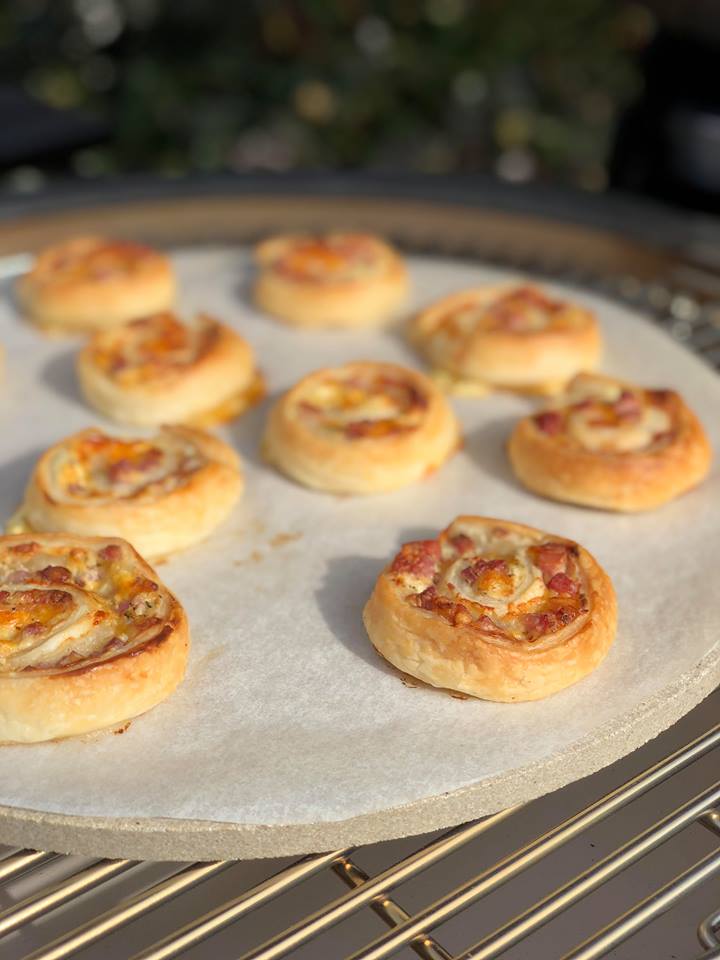 ---
---
Take the puff pastry out from the fridge 10 minutes before use or it will be too hard and could break easily later rolled up. Don't leave it too long, otherwise it will become sticky.

Roll the puff pastry out on a board or kitchen counter. Spread the puff pastry with the sour cream and season it with pepper and the herbs of Provence. You don't need salt, since the bacon cubes are actually salty enough. If you want, use Italian herbs to give the puff pastry a hint of Bella Italia. After the spices, add the ham cubes and finally the grated cheese. The cheese can be sprinkled directly on the puff pastry or at the end of the cut pinwheels. You may need a little more or less cheese.

Use the backing paper to evenly roll up the puff pastry. To do this, take the corners and pull it carefully forward, so that the puff pastry curls up. Don't roll up the dough too tight, as the pinwheels need a little space to spread when baking.

Cut the puff pastry roll into 1.5 cm (1/2 inch) thick slices. Use a knife that's as sharp as possible to prevent the pinwheels from being pressed down and spreading.

In the meantime preheat your KJ grill to 220 ° C (around 430 F) indirect heat. We used the Kamado Joe Classic II ceramic grill with inlaid deflector stones.

On the grill, place a preheated pizza stone and top with baking paper. Place the puff pastry pinwheels on top. Leave some room between each piece, as the puff pastry will expand.

Close the grill and bake. After about 20 minutes of cook time, when the puff pastry is golden brown, they are ready!

Take them off the grill and leave to cool for a few minutes before serving.