30min cooking time .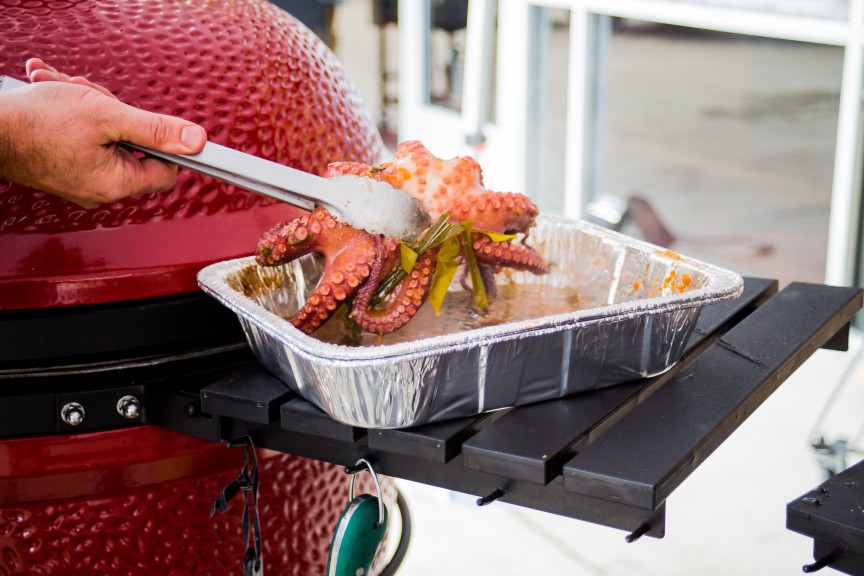 Chef Eric's Asian Court-Bouillon Poached and Soap Stone Seared Octopus
Chef Eric's Asian Court-Bouillon Poached and Soap Stone Seared Octopus
---
---
Set up your Kamado Joe for a 225F direct cook. Set the grill grates at the lowest setting of the divide and conquer system.

Combine all of the court-bouillon ingredients in a disposable aluminum 1/2 pan or cooking vessel large enough to hold all of the ingredients.

Reserve the octopus and bring the liquid to a simmer for 10 minutes.

After 10 minutes, place the octopus in the simmering liquid and cover with aluminum foil or a lid. Allow to simmer for 1 hour but do not boil.

Simmer gently, turning octopus after 30 minutes.

After 1 hour, the flesh should be tender enough to cut with a spoon. Transfer octopus to a tray with a slotted spoon; let cool. (reserve the liquid for basting later)

Replace one of your grill grates with a KJ soap stone or cast iron griddle and bank the coals directly under it. Raise the grill temperature to 400F.

While the KJ is coming to temperature, use paper towel to gently rub the skin off the octopus. Cut the tentacles from the body and slice the body and head into thin slivers.

Once your cooking surface has come to temperature, toss the octopus pieces with 1 tablespoon of oil and season with salt and pepper. Spread all the sliced pieces out evenly over your cooking surface being sure not to stack.

Turn occasionally to sear evenly until charred (be careful not to scorch the thin ends of the tentacles). This will take 3 to 4 minutes. Baste occasionally with reserved court-bouillon.

Using a spoon, draw a yogurt line down the center of your presentation plate. Transfer the charred pieces into a small bowl and toss with chopped cilantro, mint, and lime juice, garlic chili paste (optional cashew). Gently top the yogurt with the poached, charred and tossed octopus pieces. Enjoy!