45min cooking time .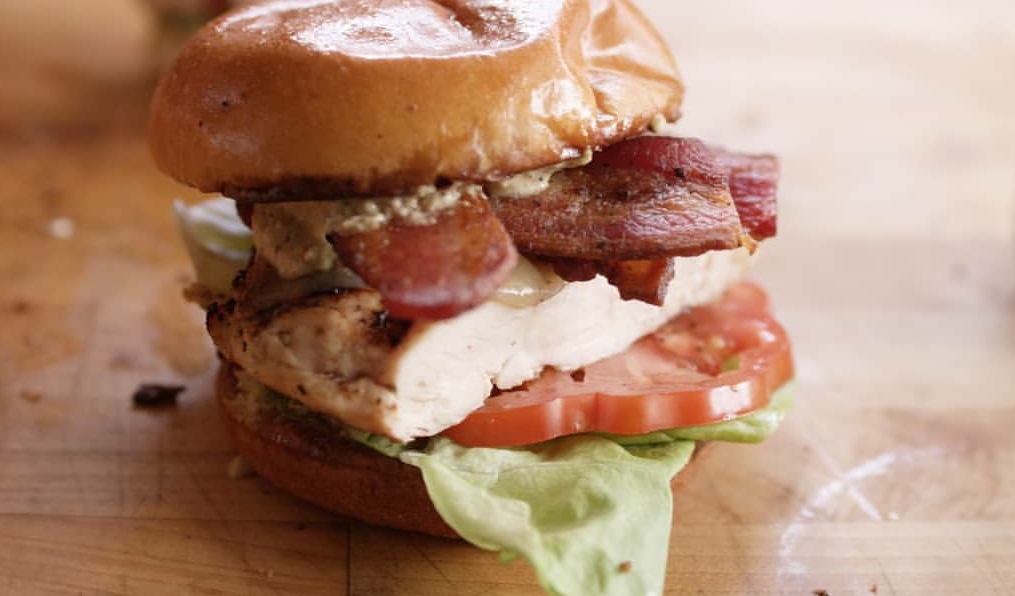 ATB Grilled Chicken Sandwich
---
---
Place a chicken breast inside a gallon sized zip top bag. Using the flat side of a meat mallet, pound the breast out into one even layer. Repeat with the second breast.

Place both chicken breasts in the zip top bag and add the Smoke on Wheels BBQ Marinade.

Transfer to the refrigerator and marinate for 45-60 minutes.

Preheat your Kamado Joe to 450ºF, set up for direct grilling.

Rub a thin layer of oil over the slab of red onion. Place the onion over the direct flame, on grill grates. Grill with the lid open until nicely charred, then flip and repeat.

Meanwhile, combine the remaining Charred Onion Mayonnaise ingredients in the small bowl of a Food Processor. Remove the onion from the grill and give it a rough chop. Add the onion to the bowl. Process to desired consistency. Store in the refrigerator.

Cook the bacon on the KJ Cast Iron half moon griddle until browned on both sides. Remove from the grill and set aside and wipe off griddle.

Remove the chicken from the marinade. Soak up any excess moisture on the surface with a towel. Season the chicken breasts with the fine ground seasoning.

Melt the butter and brush the cut sides of the brioche buns. Place the buns on the griddle and cook until toasted. Remove from the grill and set aside.

Grill the chicken on the grill grates, directly over the flame. Turn to form nice crosshatch grill marks. Flip and continue grilling. When the internal temperature reaches 145ºF, top each of the chicken breasts with two slices of pepper jack cheese. Close the dome and continue cooking until the internal temperature reaches 160ºF. (carry over cooking will bring it over the required minimum internal temperature of 165F)

Slice each chicken breast in half. To build the sandwich, spread the Charred Onion Mayo on the bottom bun. Layer on the lettuce and a slice of tomato. Top the tomato with half a chicken breast, then the bacon and finally the top bun, also spread with the charred onion mayo.