John Setzler is the ultimate BBQ Hero. For those of you who aren't familiar with John, he started Man Cave Meals and is a force of nature in the Kamado BBQ community. He has helped thousands hone their BBQ skills with his solid content.
We recently had the chance to catch up with John to talk about how he got started in BBQ and the insights he has gathered over the years cooking on all sorts of grills.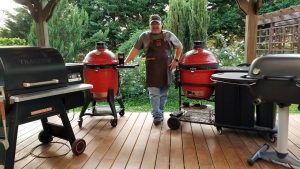 Q1: You have been creating amazing recipe videos on Youtube for Kamado Joe and BBQ'ing long before. How did you first become involved in BBQ? And what made you decide to start documenting it in the form of Videos?
I've always had a grill of some sort, but started taking it seriously about 15 years ago. Gas grilling was not my taste anymore – I wanted to experiment with the different flavors that I could get out of grilling.
As soon as I got a Weber Smokey Mountain things got crazy. I had good success with that. We cooked brisket for Mother's Day and I won major points from the In-Laws for that one.
I first started creating videos for Man Cave Meals on YouTube with a metal Char Griller Akorn from Lowe's. It got me a lot of followers so I decided to push the grill to its limit. I didn't think the metal would be that bad, but 6 to 8 months in I still had a longing to move to a ceramic grill. I didn't know much about Kamado Joe, but as soon as I used it, it was like stepping out of a Ford Fiesta and into a BMW 8 series.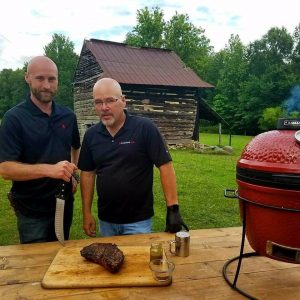 Q2: Can you tell us a little bit about Man Cave Meals, the social media page and blog you run?
Sure, Man Cave Meals is the name I gave to my YouTube channel. It's my space – my office, my kitchen, and my den all in one; my man cave. I do most of the cooking around there, so basically grill everywhere.
I thought YouTube was a good way to share my ideas. The video tutorial format was best for what I was doing, but I wasn't very good when I started. This allowed me to meet new people within the BBQ community so we could all help and share with each other.
Man Caves Meals will always be my personal project because it's what really got me started; It's not always BBQ or grilling, sometimes I'll throw in a spaghetti recipe! I'm really focusing on my Kamado BBQ work now.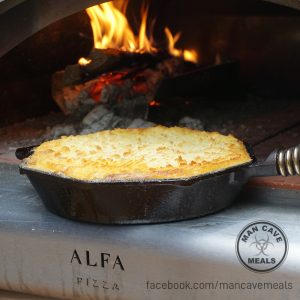 Q3: What is your favorite food to put on the grill at the moment? And what type of grill do you use to cook it? What's the secret to getting that particular food just right?
That's a hard question, but I'll have to go with a big fat ribeye steak. I like to sear mine with garlic and thyme – it's not too fancy and not too basic.
A perfect steak has a perfect caramelized sear; even on both sides. It builds a flavor layer around the meat from the sear. It can be done on the stovetop, but being who I am, I stick to the great outdoors.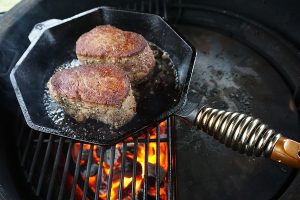 Q4: What are the Top 5 things people get wrong when they first pick up grilling? What is your greatest tip for someone that wants to develop BBQ Super Powers?
There are so many ways I could answer this, but the most common thing is:
They focus too much on the equipment and not enough on the cooking. Let your cooking needs determine what you buy rather than your wants.
Overcomplicating the cooking process. Steak is simple, but people have developed a whole bunch of ways to complicate it. It's great but should learn the basics.
People tend to focus on specific cooking temps. Exact temps don't matter so much. A good place to aim is low (225 – 300), medium (325 -375), high (425-500), and screaming high (500+).
Beginners tend to overdo it on seasoning. And they overspend too! My favorites are the rubs and seasoning from Meat Church. Simple but amazing flavor. I recently released my own line of rubs and spices that I have developed over time from my experience on the grill. They are exclusively available at AGC.
Less is more. People tend to use too much smoke and it's easy to do. I was always guilty of that when I started. If I didn't see smoke coming out of grill he thought it was wrong. Light smoke is the best kind. Its like seasoning
To be a grill master, the first thing you have to do is master your grill, control your grill. Understand how to make it behave the way you want it, whether it is a Kamado BBQ or any other grill. Cooking skills are necessary but if you can't use your tool it doesn't matter how good you are with the food.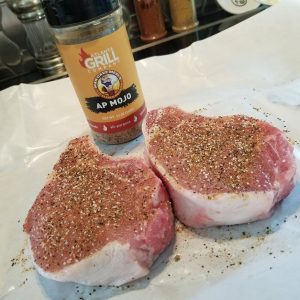 Q5:  When entertaining people over a BBQ meal, what is your go-to menu and how do you make a positive impression? Any bonus tips for how to make a BBQ Party generally more fun?
I like to serve a traditional southern BBQ meal. It consists of pulled pork BBQ, homemade sauce, smoked mac 'n' cheese, homemade coleslaw, pickled onions, corn bread, and BBQ baked beans. Very traditional but it works.
I'll either do this with the pulled pork or with a brisket or ribs. I've developed these recipes over time and have nailed my cooking times. It'll probably take 12-16 hours so if it's a lunch time meal, I'll cook it overnight. Sometimes, to speed up the process, I'll cook at 400 because I won't put the meat on until noon.
One of the fun things to do is have one or two grills running and help them grill their own food and show them as you go what they are looking for and improve their own game. Feed them a great meal and teach them something in the process.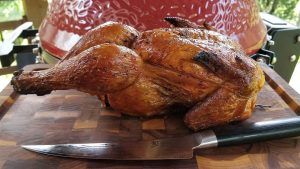 Bonus Question: What's your favorite grilling memory?
There are so many… I grill whenever I can. Even at my wedding, so that's probably my favorite.
My mother in law got upset because I wanted to cater the wedding. She didn't want me worrying about the food, but then I got upset because it was a beautiful May day, at noon, at an outdoor area. I do BBQ and the grill was calling to me.
Everyone came to eat and boy did they eat. I had about 7-8 Boston Butt's ready to go and we fed everyone. We even had homemade banana pudding. A perfect southern meal. The only thing we catered in was the cupcakes and it was wonderful.
Check John out on his social media and YouTube to learn more about his BBQ lifestyle!