KamadoBjörn is a legend of the Kamado BBQ'ing scene. From day one, he has inspired us, and quite frankly, kept us drooling over our phone screens. Living in the central part of Sweden, KamadoBjörn is either at the grill making dinner for his family or posting his famous content for his fans.
Sometimes you can even spot Björn at his local power company grilling up a storm and keeping the lights on in Sweden. We got the chance to catch up with Björn last week and hear about his BBQ story: how he got started and some of his tips for people who are passionate about BBQ.
Below is a transcript of our Q&A, lightly edited for length:
Q1 – How did you first become involved in BBQ? And what made you decide to start documenting it on your Instagram feed?
I first became involved with BBQ when I received a Weber Kettle as a house-warming gift from my in-laws. That was 5 years ago. Shortly after, I picked up a Swedish BBQ Recipe book by Jonas Cramby and quickly became hooked on grilling. Within a year I was ready to upgrade up to a Kamado grill. After a lot of research, I settled on a Kamado Joe Classic for several reasons, including value for money and dealer proximity. I really enjoy long cooks and I use the grill every night of the week to prepare dinner.
I first started uploading pictures to Instagram a while back. At first, I would upload pictures I had taken with my phone, but I eventually upgraded my gear to better capture what I was putting on the grill. I am always on the hunt for better equipment!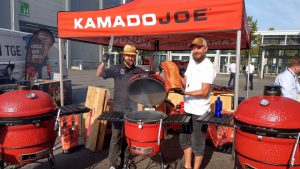 Q2 – What are your top 5 tips for beginners that are interested in getting into charcoal grilling/smoking?
Get to know your grill – learn the temperature layout at the grill plate, what parts are hotter than the rest and learn how to achieve your desired temperature with your grill.
Watch a lot of YouTube videos! When I first started I would learn a lot from those videos and I was an especially big fan of the Kamado Joe cooking channel.
Don't be afraid to fail! You could always order Pizza!
Go by temp not time, except for ribs… ribs is all about the toothpick test, make sure it slides easily through the meat.
Ask a lot of questions to people in the BBQ community. Everyone loves to share their craft and we are all one big community and love sharing recipes and tips. I love answering the questions I get through Instagram whenever I can.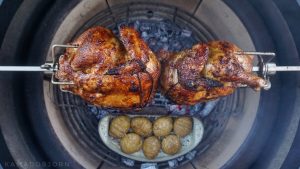 Q3 – What is your favorite food to put on the grill at the moment? What's the secret to getting that particular food just right?
Pizza! I love making Pizza on the grill. I first started making it about 6 months after I started grilling and I have been working on improving my craft ever since by always finding ways to make it better. For instance, at the moment I let the dough rise for 24 hours but I am looking at bringing that up to 72 hours!
My two tips when making pizza:
Be mindful of the heat from your pizza stone and of not getting it too hot. I have seen too many mistakes where the pizza stone is overheated and ruins the pizza.
The temperature you want to bake your pizza at, will depend on the type of dough you have prepared, more specifically its oil and sugar content. So be sure to set the right temperature for your dough.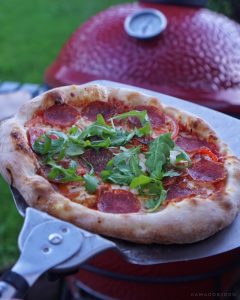 Q4 – Your usual setup includes a kamado grill, for people considering buying one what would you say are the top 3 advantages of the kamado grills? For those that are not quite ready to buy one, what type of grill would you recommend they buy?
The Weber Kettle is a great way to get started and start learning the basics of grilling.
The three advantages to a Kamado in my opinion are:
You can cook anything on a Kamado Grill, whether it is baking, grilling, searing, smoking, you name it.
It will be the last grill you ever own! Unless you get addicted and decide to buy another.
You will save on fuel using a kamado smoker. When you are done just shut it down and save the remaining fuel for next cook.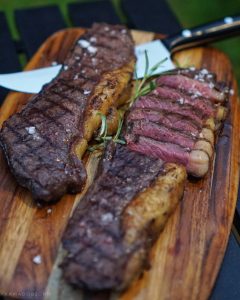 Q5 – You have been producing amazing content on Instagram for some time but you recently started a YouTube Channel. Tell us more about your plans for your Youtube Channel and the community you hope to be able to build there?
Instagram is great, but you can't convey the whole message the same way you can with long form videos. I first started uploading videos to Youtube because I had a couple longer videos I wanted to share and was looking for a suitable place to put them. Those videos ended up working pretty well so I made a few more that also did well.
I am pretty excited about the whole thing and while I am not too sure where it's going yet since it is so early, I do want to make videos to help people understand their grill: how to maintain it and take care of it. We'll see where this whole thing goes!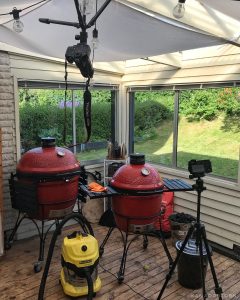 Q6 – Bonus Question: What is your Top Secret to becoming the best outdoor chef in your neighborhood?
Three simple words: Grill. A. Lot… Don't just do it on weekends, grill after work and at whatever chance you get.
If you already follow Björn on social media, then keep doing what you are doing. If you don't, we would highly recommend checking him out for some solid grilling inspiration.